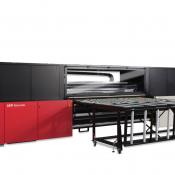 Full-service commercial print shop Superior Graphics of Dallas, which claims to be the preferred supplier to some of the top retailers in the United States, recently added to its equipment roster with the purchase of an Jeti Tauro UV inkjet printing system from Agfa Graphics.
The Jeti Tauro is a six-color + white or primer, 100" UV hybrid printer with 32 Ricoh MH series heads. Designed for high-productivity printing and to run 24/7, the Tauro can print on both rigid and flexible material with speeds of up to 2,960 square feet per hour.
"We continually upgrade our equipment at Superior Graphics," company president John Ehrenberger told Sign & Digital Graphics. "We already had 2 true flatbed printers (Jeti Titans). Although the hybrid feature was interesting, we mainly purchased the Tauro for its high-speed and low running cost aspects. So, the roll capability was just a bonus, not a requirement."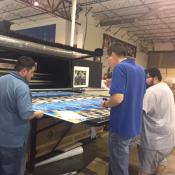 In doing research on his company's next printer purchase, Ehrenberger says he was particularly impressed with the Jeti Tauro's low ink consumption.
"We did our homework to figure out the long-term impact the Jeti Tauro would have on our business," Ehrenberger says. "We analyzed the run rate and realized how little ink is required. The high production Jeti Tauro offers significant ink savings while producing high quality output."
According to Agfa, the Jeti Tauro has a "low ink laydown" that results in cost savings for the printer without sacrificing quality. Superior's Jeti Tauro has advanced white printing and ink management and is powered by Asanti, Agfa Graphics' automated workflow product for the wide-format sign and display market. Asanti's Color Management System controls the amount of ink that's used in the printing process, resulting in less ink consumption.
"Featuring pre-, post- and sandwich white printing, Jeti Tauro has a stirring functionality that keeps the white ink recirculating and in motion at all times to prevent settling and blocked or clogged lines," says the company.
Superior Graphics, which serves the entire U.S., was launched in 1970 and has grown over the years, currently being located in a facility that's approximately 21,000 square feet. The company employs about 40.
Aside from the new Agfa Jeti Tauro and the Titan that Ehrenberger mentioned, the company also runs a couple of HP Latex printers, the LX3000 and LX800; an HP Indigo 7800 color Press; and two Zünd G3 digital finishing systems.