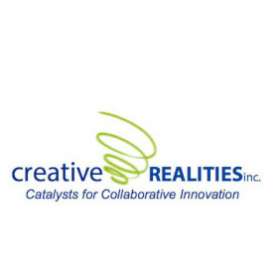 Boston-based digital marketing company Creative Realities Inc. announces it has entered into an agreement to purchase Atlanta-based Allure Global Solutions, a subsidiary of Christie Digital Systems.
Allure is a provider of digital signage, digital menu boards, and digital signage analytics with a strong presence in the quick-serve restaurant, entertainment, and theater markets.
"We worked diligently to find the best fit for our first acquisition as part of our previously announced strategy to augment organic growth—done with the right partner and with the right metrics," says Rick Mills, CRI's CEO. "Allure and its content management systems offer an opportunity for CRI to expand into new sales verticals, as its customers include some of the world's largest chains of quick-serve restaurants, motion picture theaters, sports stadiums and arenas. In addition to the enhanced scale that this acquisition brings to CRI, Allure's expertise in content optimization and transactional analytics will prove to be beneficial to the entire CRI customer base.
"From an integration perspective, we'll have the opportunity to consolidate a number of Allure's important back-end services, such as installation, support, project management and network operations, to CRI's existing services platform, which will meaningfully increase efficiency and profitability. Finally, the addition of an operational branch in Atlanta is important as we expand our national presence."
Adds Craig Chapin, president of Allure: "Allure is excited to join CRI because of the opportunity it provides to expand our offerings to current and future customers. Allure's experienced team of client service personnel will be complimented by CRI's larger footprint and strong digital professionals teaming to provide an industry leading level of service and reach, bringing new innovations to the digital signage marketplace."