The Specialty Graphic Imaging Association (SGIA) and Printing Industries of America (PIA) have officially merged to become Printing United Alliance.
The newly formed organization brings the resources and services of the two companies under one roof to best support the printing industry.
"Printing United Alliance is a reflection of the invaluable partnerships and industry convergence that has evolved over time," said Ford Bowers, president and CEO of the unified organization. "The entity's name seemed an obvious choice to many as our North Star points to the industry continuing to come together and strengthening to ensure future growth and longevity."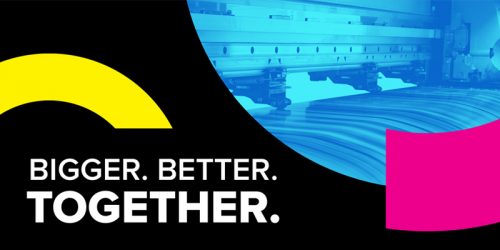 SGIA and PIA are together committed to serving the graphic arts community with pre-eminent research, education, training, events, legislative support, government affairs, health and safety, and other key industry services. SGIA primarily serves the graphics, industrial, and apparel decorator segments, while PIA caters to the commercial printing sector. Together, members will have access to services across many channels.
"In this time of consolidation, printer members and the supplier community at large are looking for a unified solution to the challenges they face in this era of rapid change," said Scott Crosby, chairman of the board and Transcontinental Holland & Crosby vice-president of sales and marketing. "The new association will become the place to find answers for everything related to printing. It is a great honour and privilege for me to serve the industry as we look forward to a new beginning."
Printing United Alliance has also announced its official board of directors, which reflects combined leadership from the previous SGIA and PIA boards. It comprises the following industry executives: chairman of the board Scott Crosby, Transcontinental Holland & Crosby; first vice-chair Paul Cousineau, Dow Jones and Company Inc.; second vice-chair Christopher Bernat, Vapor Apparel/Source Substrates LLC; third vice-chair Michael Marcian, Corporate Communications Group; treasurer Dean DeMarco, IDL Worldwide; secretary Brooke Hamilton, NPI; immediate past chair Thomas Cooper III, WestRock; chair of chairmen's advisory council Edward Cook, Jr., ECI Screen Print Inc.; associate vice-chair Scott Schinlever, Gerber Technology; and ex-officio Ford Bowers, president and CEO, Printing United Alliance.
Directors at large include: Brian Adam, Olympus Group; Nick Buettner, American Cut and Sew; Roger Chamberlain, The Cincinnati Insurance Company; Kristen Danson, MitoGraphics Inc.; Chris Feryn, Premier Press; Kevin Gazdag, KG Graphics Décor; Bryan Hall, Graphic Visual Solutions; Lane Hickey-Wiggins, Douglass Screen Printers Inc. dba DPRINT; Brian Hite, Image Options; Michael Magerl, Trabon Group; Brent Moncrief, Fujifilm; Joseph Olivo, Perfect Communications; Edward Pidcock, Chillybears; Heather Poulin, Ricoh USA; Timothy Saur, Durst Imaging Technology US LLC; Elaine Scrima, GSP Companies; Michael Wagner, Butler Technologies Inc.; and Joseph Lyman, president, Great Lakes Graphics Association, serving as affiliate manager.
"The industry is going through great change right now, so the timing for these two organizations to come together dovetails nicely," said Cousineau. "I'm honoured to be a part of something so impactful. I've enjoyed the process working with the board in getting to this point and look forward to the future."